Mainova and Alto Alentejo, present at FINE 2023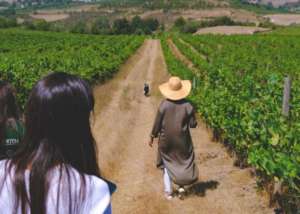 Alto Alentejo is a region located in the eastern part of Portugal, known for its beautiful landscapes, cultural heritage and unique gastronomy. In recent years, it has become one of the most promising wine regions in Portugal, with a strong commitment to the quality of its wines.
The Alto Alentejo region has a wide variety of grape varieties, many of them indigenous, such as Trincadeira, Aragonez or Alicante Bouschet, which allow the production of unique and distinctive wines. In addition, its Mediterranean climate with continental influence and its soils of schist, granite and clay give unique characteristics to the region's wines.
Alto Alentejo's winegrowers have made a firm commitment to quality, using sustainable and environmentally friendly cultivation techniques. In addition, many wineries in the region have opted for modernisation and innovation in winemaking processes, without forgetting the traditions and culture of the region.
Mainova, wine epicentre of Alto Alentejo
Within the region Herdade da Fonte Santa has centuries of preservation and improvement of its soil, combined with experience in the best practices and processes. With the leitmotiv of generating the best wines that Alto Alentejo has to offer, Mainova was born a few years ago, "an authentic, innovative and sustainable brand that toasts to the future without ever forgetting the heritage, traditions and truths of the past", as can be read on its website.
Mainova, a brand with a highly specialised team, they take care of their vineyards and olive groves to guarantee exceptional, natural and conscious products. In addition, they are committed to environmentally friendly solutions in all processes, including the packaging of their products.
One of the attractions of Mainova is its wine tourism offer, which provides a unique and authentic experience for visitors. From wine and olive oil tastings to personalised events, Mainova prides itself on offering a warm welcome to all who visit. On the 1st and 2nd of March, during the 4th edition of FINE, #WineTourismExpo, you will be able to get to know this offer in detail.
As a foretaste, visitors who come to Mainova can taste different wines and olive oils in a specially designed tasting room. For olive oil lovers, four or six different oils can be tasted while enjoying an assortment of cured meats and cheeses, all with views of the olive grove and vineyard.
If you prefer wine, there are visits to the winery where you can taste three to five different wines accompanied by an assortment of local foods.
Another option is to add to the visit and tasting the tasting of olive oils also produced in the region. The liquid gold is also a hallmark of Alto Alentejo.
In addition, Mainova offers the possibility of holding personalised events, adapted to the tastes and needs of visitors. From corporate events to private celebrations, Mainova will make any idea you have come up with a reality.