Finca Viladellops presents its wine tourism offer at FINE 2023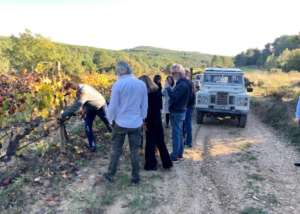 The fourth edition of FINE #WineTourismExpo will be held on 1 and 2 March 2023 in Valladolid. The perfect business venue to foster commercial relations between the wine regions of Europe and the main international tourism issuing markets, during two days we will be able to get to know a large number of top-level wine tourism proposals. Once again this year, one of them will be Finca Viladellops, one of the most important wineries in the Catalan Penedès region.
Finca Viladellops: The Essence of a "Wine Village"
Finca Viladellops is not just a winery with tanks and barrels, it is an enclave in which its owner, Marcelo Desvalls, has made a strong commitment to wine tourism based on three main aspects: history, landscape and wine culture. It is a Mediterranean, sustainable and 100% ecological project (it has been organic since 2005).
This property with more than 1,000 years of history offers "Eno-cultural" experiences. Finca Viladellops, with 60 hectares of organic vineyards, is located in the heart of Penedés (Garraf), ten minutes by car from Sitges and forty from the centre of Barcelona. It offers a 360º experience, including visits, tastings, activities, gastronomy and accommodation.
The Finca Viladellops wine tourism offer
During the guided tour, visitors will have the opportunity to learn about the history of Finca Viladellops, which dates back to 958, when the Order of the Knights Templar settled in Viladellops.
The property boasts a 13th century hermitage, an 11th century tower and a winery dating back to 1877, where wines have been produced for the last 25 years. Visitors will have the opportunity to explore the winery, the vineyards and the "Desvalls Family Interpretation Centre", where more than 4,000 parchments with more than 800 years of history can be found.
The guided tour ends with a premium wine tasting, allowing visitors to sample wines made from the region's native grape varieties: Garnacha for the reds and Xarelo for the whites.
In addition to guided tours, Finca Viladellops offers different types of experiences in the vineyard, such as walking tours, 4×4 or Segway tours, among others.
Tailor-made experiences are also offered to suit the needs of the clients. The Finca Viladellops team is made up of certified sommeliers and guides who speak Spanish, English, French and German.
The estate also has different accommodation options, such as holiday rental villas, which can accommodate groups of 6 to 20 people and have a private pool. There is also a 4-bedroom bed and breakfast with swimming pool in the centre of Finca Viladellops.
Gastronomy is another fundamental part of the Finca Viladellops experience. La Cantina de Finca Viladellops offers a 100% Mediterranean menu prepared with KM.0 products.
As you can see, Finca Viladellops is a complete wine tourism proposal that offers a unique experience for all visitors. With its focus on the history, landscape and culture of wine, as well as its commitment to sustainability and organic farming, Finca Viladellops is an excellent choice for those seeking an authentic and enriching experience in the Penedès wine region. On 1 and 2 March, come and get to know it at the 4th edition of FINE #WineTourismExpo.