Caves Messias: the story of a winery about to reach its Centenary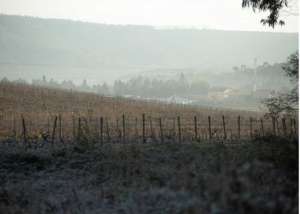 Mealhada is a town located in the region of Bairrada, one of the main wine regions of Portugal. This region is famous for its red and white wines made from Baga grapes, an indigenous variety grown in the region and characterised by producing wines with an intense body and a high level of tannins. Besides the Baga grape, other varieties are also grown in the region, such as Touriga Nacional and Alfrocheiro.
The area is also famous for its gastronomy, with typical dishes such as leitão (roast suckling pig) and chanfana (a meat stew). These dishes are often paired with the region's wines, and in many local restaurants you can find wine lists that include wines from Caves Messias and other local wineries.
In terms of wine production in Mealhada, Caves Messias is one of the most important and renowned wineries in the area, and its presence in the town is a reflection of the importance of wine in the local economy. The company, also known for its production of sparkling wines so popular in the region, will be present at the 4th edition of FINE, #WineTourismExpo.
The history of Caves Messias, 97 years of caring for fine wine
Since its foundation in 1926 by Messias Baptista, Caves Messias has been a family-owned company that produces and sells high quality wines from Portugal's main demarcated regions, including Bairrada, Douro, Dão, Vinho Verde and Port Wine. The company is also known for the high quality of its sparkling wines and aged brandies, which are exported to five continents and represent 70% of its production.
With more than 90 years of history, the company is currently managed by the descendants of the Messias family and the last decade has made a strong investment in technology and the acquisition of vineyards to expand and offer its customers a unique wine tourism experience.
The main winery is located in Mealhada, where the family estate Quinta do Valdoeiro is also located, just a five-minute drive from the winery. The company also has other facilities in Vila Nova de Gaia and vineyards in the Douro and Dão regions, with a wine heritage of more than 300 hectares.
Wine tourism, a key element at Caves Messias
The wine tourism offer at Caves Messias is impressive and is divided into various services, from visits to the winery to exclusive gastronomic events:
Cellar tours: visitors can delve into the galleries of sparkling wines from the 1940s and discover the secrets hidden in every nook and cranny.
Wine tastings: visitors can discover the aromas and structure of still wines, the freshness and texture of sparkling wines and the complexity and elegance of Port wines.
Events: Caves Messias offers the possibility of enjoying a unique gastronomic experience with the traditional flavours of Bairrada's gastronomy, paired with the company's wines, in exclusive rooms full of history and tradition.
Wine shop: a welcoming space where visitors can find the full range of Caves Messias wines, sparkling wines, Port wines and brandies.
Experiences at Quinta do Valdoeiro: visitors can enjoy a unique experience at the company's estates, with privileged views of the Serra do Buçaco and activities ranging from tastings and brunches to grape harvesting and team building activities.
In short, Caves Messias is a winery about to reach its centenary that has managed to maintain its tradition and quality in wine production, while offering its visitors a unique wine tourism experience.