Wine & Soul: discover the Portuguese Douro with a glass of wine in your hand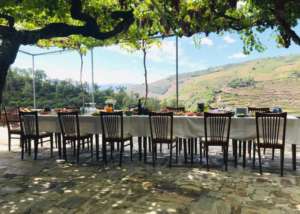 The Sabrosa region is located in the north of Portugal, in the Douro area, one of the oldest and most prestigious wine regions in the world. Wine production in this area has a long history, dating back to Roman times, and has developed thanks to the characteristics of the terroir and the expertise of the local winegrowers.
The Sabrosa region is known for the production of high quality wines, especially red wines made from indigenous grape varieties such as Touriga Nacional, Touriga Franca, Tinta Roriz and Tinta Barroca. These varieties are grown on steep slopes and terraces that extend throughout the Douro Valley, and benefit from the Mediterranean climate with Atlantic influence, with hot, dry summers and mild, wet winters.
Wine production in the Sabrosa region is governed by the Douro Controlled Designation of Origin (DOC) system, which sets out the growing and production requirements for the region's grapes and wines. In addition, the region has a number of renowned wine producers, such as Wine & Soul, who have contributed to the development and promotion of Douro wines around the world. Founded in 1999 by an enthusiastic local couple, they will be present at the Fine #WineTourismExpo on 1 and 2 March to present their extensive wine tourism offer.
The Douro, protagonist in the winery
Wine & Soul prides itself on, as you can read on its website, "producing Douro and Port wines", including its iconic and renowned Pintas. The winery has also received a number of accolades, including second place in the Wine Spectator Awards in 2014 for its Quinta do Vale Meão Douro 2010.
But Wine & Soul is not just a winery, it is a wine tourism destination offering a variety of unique experiences. From tours and tastings to vineyard walks and lunches on the property, the winery has a wide variety of activities to offer all wine lovers.
Wine & Soul's wine tourism proposal
If you are looking for a unique tasting experience, Wine & Soul offers a variety of options to suit your tastes. From basic tasting to port wine tasting and premium tasting, there is an option for every budget. In addition, the winery also offers the option to purchase wines and products in its wine shop.
For those looking for a more complete experience, Wine & Soul offers a variety of additional activities. Visitors can enjoy a guided tour of the winery to learn more about its production processes and the history of Portuguese wine. Walks through the vineyards, lunches on the property and wine blending activities can also be arranged.
But if you can't visit the winery in person, Wine & Soul also offers personalised virtual tastings to connect with friends and family through a shared presentation.
Wine & Soul is ultimately more than a winery, it is a wine tourism destination that offers a unique experience in the Portuguese Douro region. Whether you are looking for a basic tasting experience or a full visit with lunch and vineyard tours, Wine & Soul has something to offer to all wine lovers. Come to FINE on the 1st and 2nd and find out how they can make you fall in love.