The lands of Austria offer a unique way to enjoy wine tourism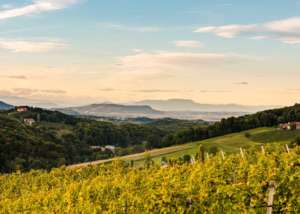 January is just a few days away, which means that there is less and less time left before FINE #WineTourismExpo #Marketplace sets up shop at the Valladolid Trade Fair during the first two days of March. Tourist agencies and wineries from different countries, as well as national companies, will attend this event to present their various wine tourism proposals. Above all, the aim of many organisations is to discover countries that are not so well known in this sector, such as Austria.
With more than 50,000 hectares of vineyards, surrounded by impressive landscapes of hills and valleys, Austria is home to some of the best wine grapes in the world. Wine tourism is a popular way to explore this tradition and landscape, offering visitors the opportunity to taste fine wines and meet local producers.
The diversity of Austrian wines
Austria is known for its white wines, especially those made from the Grüner Veltliner grape variety. However, the country also produces high-quality red wines, such as Zweigelt and Blaufränkisch. Austrian wines are known for their freshness and acidity, and are ideal to accompany typical dishes of local cuisine.
Internationally recognised wine regions
Austria has three main wine regions: Wachau, Kamptal and Kremstal in the Danube river valley and Burgenland, in the east of Austria, is especially known for its red wine production. In these regions, visitors can visit wineries and taste wines directly in the vineyards. In addition, many producers offer guided tours and tasting workshops.
An example of the beauty that awaits you in this part of Central Europe is that the Wachau was included on the UNESCO World Heritage List in 2000. This mention was awarded because of the important agricultural and architectural past of the place.
Wine tourism in Austria
Wine tourism in Austria has become increasingly popular in recent years. Visitors can choose from a variety of options, from tastings in wine cellars to cycling tours through vineyards. Tourists can also attend wine festivals and special tastings in local restaurants. In addition, there are specialised wine tourism accommodations, such as cottages and hotels with wine tastings included.
Apart from festivals of great interest to wine lovers, they can discover one of the 10 most interesting wineries in the world. According to Details Magazine, the magazine responsible for this ranking, it includes Claus Presinger's winery as one of the jewels of world wine tourism.
Located in Gols, a municipality of 3,500 inhabitants and close to the border with Hungary and Slovakia. The 19 hectares of vineyards within a radius of 18 kilometres are some of the reasons why this place has received such an award.
The architecture of the winery is undoubtedly the main reason for the majesty of this site. A structure made of concrete and larch wood (a tree of the Pinaceae family) holds all the secrets of Claus Presinger's wines: from the reception of the grapes to the maturation in the bottles. The view from its terrace over Lake Neusiedl and the Schneeberg mountain while enjoying a fantastic product is a perfect way to crown the visit.
How do you plan a trip to Austria?
Before planning a wine tourism trip in Austria, it is important to research the different wine regions and wineries. It is advisable to choose a specific region and book winery visits and tastings in advance. It is also advisable to research the wine events and festivals that will take place during your stay.
In addition, it is important to consider the logistics of the trip, such as the mode of transport. Many wineries and vineyards are located in rural areas, so it is advisable to rent a car or hire a guided tour. It is also advisable to plan an extended stay in order to have enough time to explore several wine regions and taste different types of wines.
Wine tourism in Austria is a unique experience that offers the opportunity to taste fine wines and meet local producers, while enjoying beautiful landscapes and a rich winemaking tradition. With proper planning, visitors can make the most of this experience in one of the best wine regions in the world.