The importance of innovation: 5 creative ideas for an unforgettable experience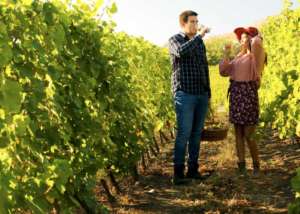 FINE #WineTourismExp #Marketplace is not only an opportunity for tour operators and travel agencies to check out the latest proposals in the sector in situ. The rest of the wineries and tourism agencies also use the fair, which will take place in Valladolid on 1 and 2 March, as a source of inspiration and to give a twist to their different activities in the sector. The importance of innovating, not being repetitive, making a difference… These are ideas that must be present when creating a wine tourism strategy.
Wine tourism is a growing trend, as more and more people are becoming involved in everything related to wine, the culture surrounding the drink and the different environments in which it is cultivated. To stay competitive in this sector, it is key for wine producers to come up with creative ideas and not be afraid to innovate and offer an experience that will be engraved in people's subconscious. So here are 5 ideas that can work:
Personalised tastings
Product customisation is an option that is widely supported by users in any sector. What better way to offer a unique experience to the customer than to let them choose the different activities to be carried out? Tourists value the fact that their specific interests are taken into account, as well as feeling that their requests are listened to by the winery or the entity responsible.
One way to innovate in wine tourism is to offer personalised wine tastings for visitors. This can include themed tasting options, such as tastings of wines from a certain region or of a specific style, or even tailor-made tastings for visitors with specific interests. This option allows visitors to experience wines they would not otherwise have the opportunity to taste.
Education and entertainment
Disguising wine education with a layer of entertainment is always welcome. Everyone assimilates the concepts better if the explanation is done in an entertaining way. An example of this are thematic tours that mix wine tasting with the history, landscapes and culture of the area. Wine-making workshops are a fun way to see how your favourite drink comes into being and to learn all the steps involved: from the grape harvest to the bottling of the liquid in the bottle.
Themed accommodation
Wineries can have a second life, apart from being the birthplace of wine. Themed accommodation, either in the cellars themselves or in the gîtes, allows visitors to experience what life is like where it all happens and to learn more about wine making.
Outdoor activities
The vineyards host the grape growing process and form spectacular landscapes that can be used as a tourist attraction. Bicycle tours around the winery or through the vineyards themselves, tastings in the vineyard grounds or on a terrace overlooking the vineyards are welcome options for visitors.
Thematic experiences
Themed wine-related experiences are highly valued by consumers. Wineries, especially these companies, organise special events such as dinners with wines from a particular region or a specific type of wine. In many cases, these activities focused on a single theme require a great deal of storytelling.
This term is used to convey a story about that particular wine to the customer. It should be a structured story with an introduction, middle and end, as in books or films. The oenotourist will be able to get involved in the narrative of that wine and want to know more.
Innovation is essential to always be present in the world of wine tourism. By offering unique and unforgettable experiences, wine producers and wine tourism destinations can stand out and attract an increasingly demanding audience. By applying these ideas, wine tourism destinations can improve their offer, provide an unforgettable experience to visitors and from these ideas, other gaps emerge that no company has yet filled in the world of wine tourism.