How does climate change affect wine tourism?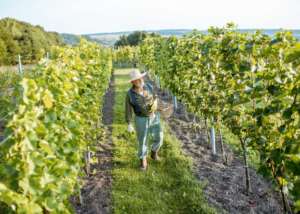 At FINE #WineTourismExpo #Marketplace, apart from learning about the latest national and international wine tourism proposals, one of the topics on the table will be climate change. Vineyards and harvests are far from being unaffected by this problem, the seriousness of which is one of the main concerns of today's society.
Climate change and other environmental problems are increasingly affecting the wine tourism sector. According to a study by the Institute for Tourism and Environmental Research, climate change is affecting wine production worldwide, as increasingly extreme weather conditions are affecting vineyards and wine quality.
The impact on wine production
Although the fair focuses on wine tourism, it is only logical to be aware that environmental problems have repercussions on the quality of wine and the land where it is grown. If wine can suffer alterations, wine tourism will suffer as well. Climate change is causing an increase in temperatures, droughts and frosts, which is affecting wine production worldwide.
According to the Tourism and Environment Research Institute, temperatures are rising, which is affecting wine quality and grape production. Droughts and frosts are affecting vineyards, increasing production costs and the availability of wines is reduced as time goes by and the problem worsens.
What about wine tourism and how to solve its problems?
Wine tourism is directly and indirectly affected by climate change. As the quality and availability of wines is affected, so is the attractiveness of wine tourism. Increasing extreme weather conditions affect the safety of tourists and the infrastructure used by tourists in wine regions.
Effective solutions to these problems are needed. There are several actions that can be taken to mitigate the impact of climate change on wine tourism. One of the main actions is the adoption of sustainable practices in wine production, such as organic farming and the reduction of greenhouse gas emissions. Another measure is the adaptation of accommodation, museums and other spaces dedicated to tourists to adverse weather conditions, such as the construction of shelters for tourists in case of forest fires or floods.
Authorities express concern
Wine tourism experts do not hide their concern about a problem that could lead to the disappearance of ecotourism activities in certain areas. One of these voices was that of José Antonio Vidal, president of the Spanish Wine Tourism Association, who stated in a speech, given in 2018, that wineries and tourism agencies must rise to the occasion: "If it is a fact that tourists are increasingly responsible with environmental issues, companies have to live up to the expectations demanded by their customers".
On the other hand, the president of the California Wine Tourism Association, Robert P. Koch, has stated that "climate change is a challenge for wine tourism in California, but it is also an opportunity to innovate and adopt sustainable practices". It is important to keep in mind that climate change does not only affect wine production but also tourism in general, as there can be difficulties in travelling due to weather conditions, and this can affect the economy in the regions where wineries are located.