Buyers from 17 countries to take part in FINE, Valladolid's International Wine Tourism Fair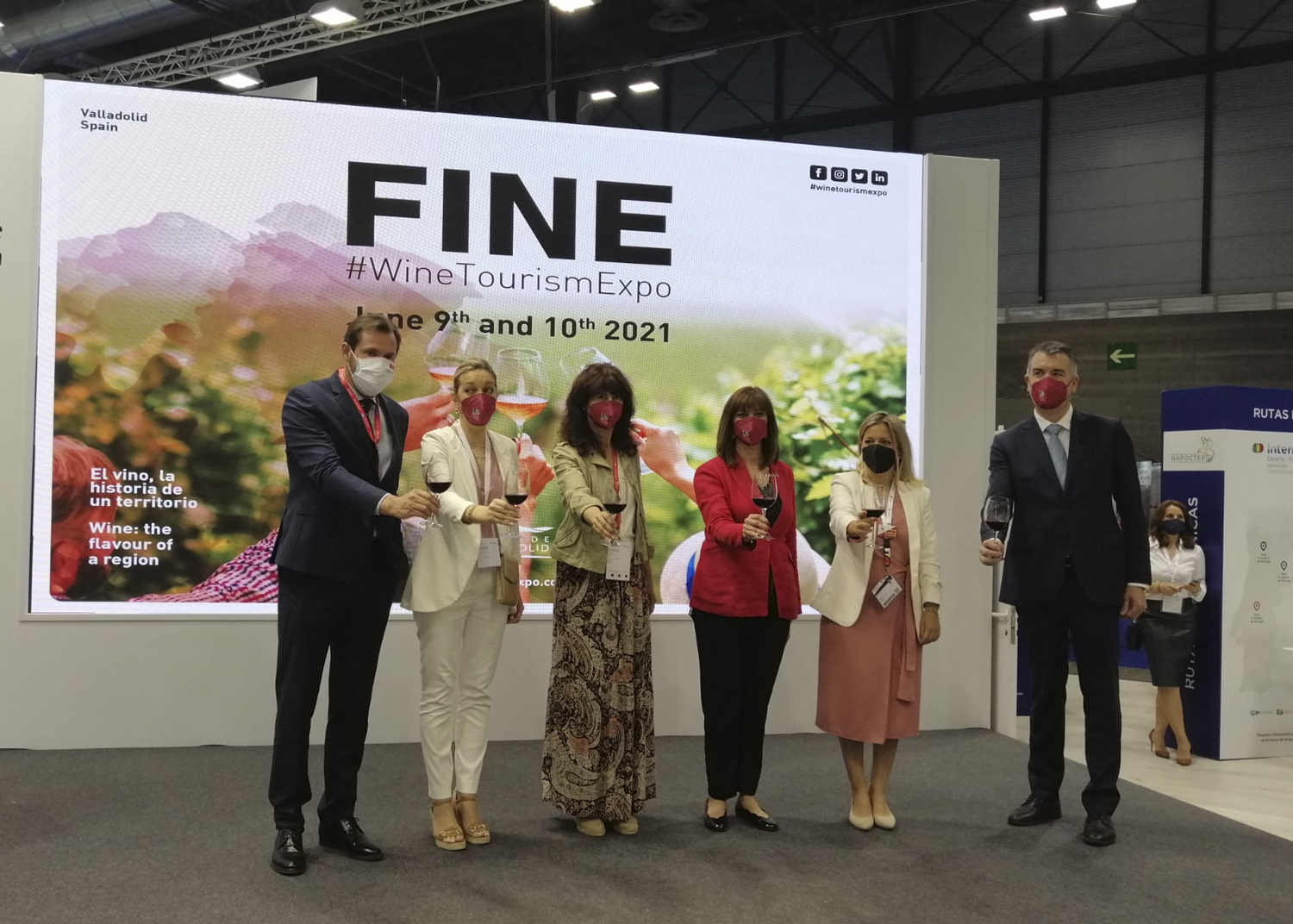 FINE, the International Wine Tourism Fair, will be taking place in Valladolid on 9th and 10th June. This event, designed for professionals, will be attended by more than 75 buyers specialised in the wine tourism segment from 17 countries in Europe, Asia, Oceania and America, who will be meeting with wineries, wine routes and accommodation options.
At least 2,000 meetings have already been scheduled, most of which will be face-to-face at the Feria de Valladolid exhibition site. In addition, and due to international travel restrictions, buyers from Australia, the USA, Canada, the UK, Russia, Norway and Singapore will be participating in the event online.
These buyers' principal interests lie in discovering new tours, wineries and routes, as well as exploring innovative ideas and spaces for incentive trips, luxury experiences and tailored individual packages for families, couples or small groups, etc.
The FINE showroom will feature over a hundred wineries, regions and specialised accommodation options in Spain, Portugal and Italy. Leading wineries from areas such as the Ribera del Duero, Somontano, Penedés, Rioja, Douro, Alentejo and Porto will be showcasing the diversity of their wine tourism programmes, together with routes around Madrid, Castilla-La Mancha, Murcia, Lugo and Castilla y León.
The range of options presented by the wineries and destinations alike will include activities related to cultural and natural heritage, gastronomy, as well as one-of-a-kind experiences. Around thirty routes and municipalities that offer wine and its culture as a differentiating factor will be attending FINE.
Wine routes are becoming increasingly attractive to tourists. Indeed, according to the eleventh edition of the report on tourism demand released by Acevin, the Spanish Association of Wine Cities, interest in discovering winemaking destinations is the reason for 40 percent of the trips made. Discovering the culture underlying the world of wine, combined with the local gastronomy, natural settings and traditional ways of life, are reasons that lead tourists to choose wine routes as their preferred leisure option.
The report goes on to explain that opting for a particular route is motivated by recommendations from friends and relatives (40.8%); the interest in the wines produced in the area (24.5%); and the appeal generated via digital platforms and social media.
FINE is a Feria de Valladolid initiative backed by institutions such as the City Council, the Junta de Castilla y León, Valladolid Provincial Council, the Chamber of Commerce and Turespaña, which collaborates by promoting Spain's wine tourism sector in international markets. Representatives from all these organisations took part in the presentation of FINE at the Fitur tourism fair.
As the General Manager of Feria de Valladolid, Alberto Alonso explained, internationalisation is one of the challenges facing FINE. "At this latest edition, the offer launched by Spain and Portugal is practically identical, and an Italian distillery located in Treviso will also be present. The health situation has hindered the participation of other markets, but we will continue to work on our growing internationalisation with our sights set on the next edition. In this sense, the support of Turespaña will provide a major boost".
A safe scenario
In order to guarantee health and safety at FINE, PCR and antigen tests will be available free of charge to all participants at the event: exhibitors, buyers, employees of collaborating companies, visitors, journalists, etc.
FFP2 type face masks must also be worn, and measures such as limited capacity, social distancing and participants' identification will also be in place. FINE will be held in a 9,000 square metre hall where the air is completely replaced every 30 minutes.
Training days
The FINE programme includes talks, round-table debates and workshops where experts in various areas will offer wine tourism solutions aimed at boosting development. Topics will range from data analysis to market insights or the creativity required to come up with new experiences.
Expert tourism market researcher Juan Luis Nicolau, a professor at Virginia Tech University, will deliver the opening speech at the technical workshops on Wednesday, 9th June, with a talk on the importance of identifying tourists' behaviour.
Cathy Huyghe, CEO at Enolytics, and Luís Brites, CEO at Clever Hospitality Analytics, will be offering their insight into big data application. The afternoon session will focus on how to identify the customer profile, and other topics such as augmented reality experiences, etc.
Thursday's sessions will get underway with a talk by Eduardo Gonzáles, co-founder and creative director of the Sublimotion Ibiza restaurant, who will be giving his vision of the creative process involved in innovative experiences.  Experiences from Italy, France and the Jérez brandy and wine route will round off these technical workshops.