A hundred exhibitors will gather at FINE, the International Wine Tourism Trade exhibition, starting on Wednesday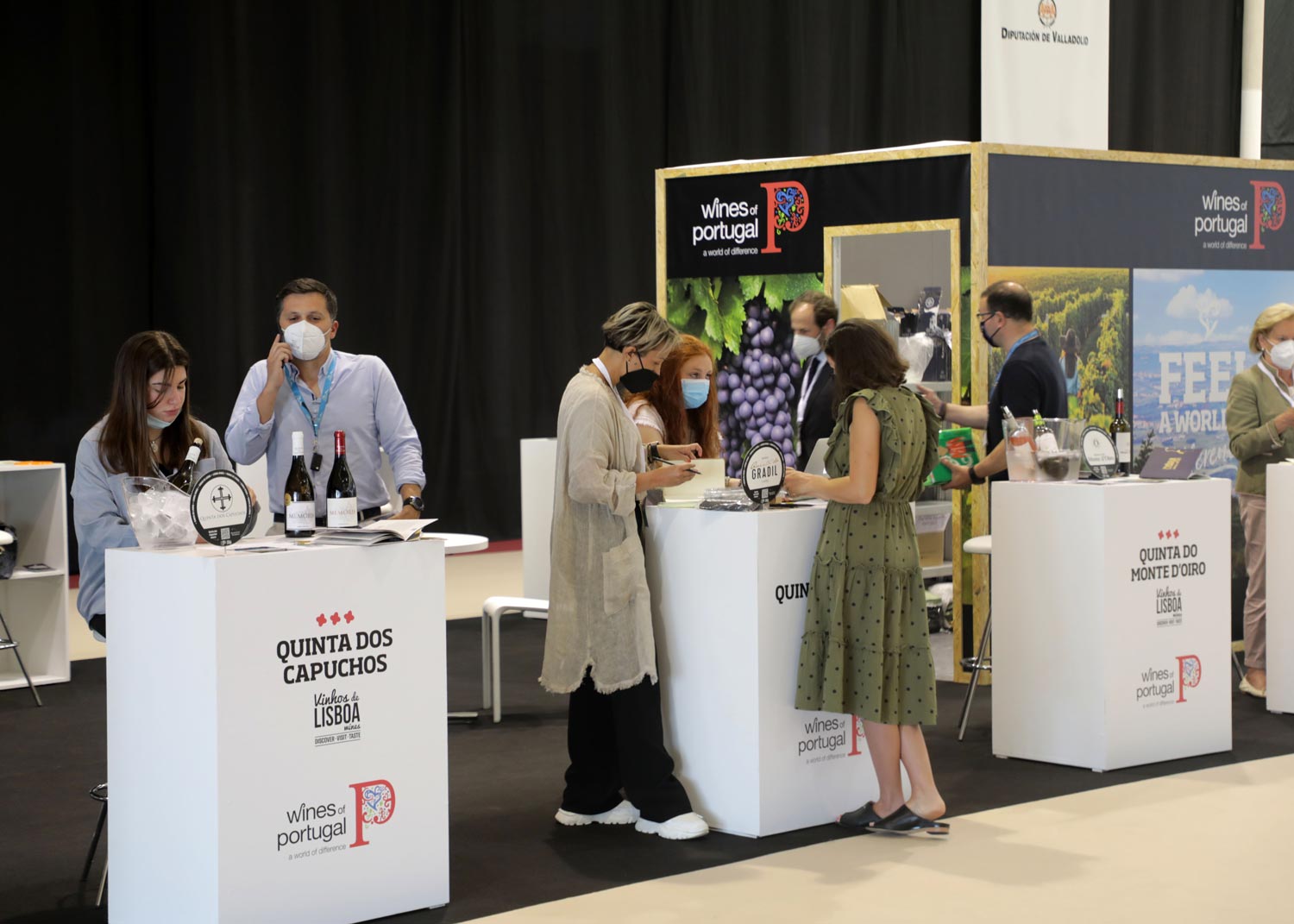 A hundred wineries, routes and hotels will take part on 9th and 10th June in the second edition of FINE #WineTourismExpo, the international wine tourism trade exhibition, an event for wine tourism professionals that kicks off with an agenda of over 2,000 business meetings between exhibitors and buyers from 16 countries.
FINE is a Feria de Valladolid project that is supported by institutions such as the Valladolid City Council, the Castilla y León Regional Government, the Valladolid Provincial Council, the Chamber of Commerce and Turespaña.
This second edition is characterised by a significant Portuguese participation, which represents almost fifty percent of the exhibition offer, and the incorporation of new wineries and routes of wine areas as relevant as Rioja, Penedés, Galicia and Madrid, which are added to Castilla y León, Murcia, Castilla-La Mancha, Somontano, Porto, Alentejo, Douro, etc.
Most of the meetings held between buyers and exhibitors will be face-to-face at Feria de Valladolid. However, restrictions on international flights have led to the online participation of tour operators and agencies from markets such as the United States, Canada, Russia, the United Kingdom and Singapore.
Segments such as Eno gastronomy, luxury tourism and "tailor-made" trips are the main demands of buyers, who seek new wineries and routes, unique venues for events and incentive trips, circuits, etc. at the trade fair.
"FINE has an international scope and after the good results of the first edition we started working to include Italian and French wineries this year, but the pandemic has slowed down this expansion. Nevertheless, we have an Italian distillery, Andrea da Ponte, from the Treviso region, which is presenting its wine tourism programme in Valladolid", explained the general manager of Feria de Valladolid, Alberto Alonso.
Names such as Abadía Retuerta, Pago de Carraovejas, Protos, Dehesa de los Canónigos, Enate, Arzuaga Navarro, Parés Baltá, Vins Ferrer, Familia Fernández Rivera, Bodegas Franco-Españolas, Olarra, Campo Viejo, Arizcuren, Taylor's, Quinta da Pacheca, Fita Preta, Quinta do Panascal, Aveleda, Quinta da Boa Esperanza, Churchill Graham, etc. shape the contents of the FINE exhibition.
Collaboration with Turespaña is essential for FINE to be able to contribute to Spain's positioning as a benchmark wine tourism destination in international markets. This agreement emphasises three aspects: the internationalisation of the offering, training of the sectors involved in creating and marketing innovative quality experiences and improving the positioning of the Spain brand in the international wine tourism segment.
Miguel Sanz, General Manager of Turespaña, believes that "actions to promote international wine tourism must be a priority at this special time, to reinforce our country brand; a booming element that is increasingly valued within the tourist experience and transversal, accompanying other tourism products such as inland, nature, cultural or business; that add experiences that put in value the resources of a tourist area, giving the traveller the opportunity to know the destination in a more experiential and close way, enjoying unique and unforgettable experiences.
This year FINE has also reissued its collaboration agreement with the Spanish Wine Federation (FEV), the umbrella organisation for Spanish wineries. Its general manager, José Luis Benítez, points out that "if Spain is a world power in tourism and wine, it is logical that it should also be so in terms of wine tourism, an activity that has an enormous potential, not only because of its capacity to bring the product closer to consumers first hand, but also because it allows us to value and convey a whole series of attributes inherent to wine on a cultural, social and sustainability level that are equally important when it comes to building our image as a sector and the experience around wine".
Routes and municipalities
The range of options presented by wineries and destinations includes references to cultural heritage, gastronomy, activities in natural environments, unique experiences, etc. At FINE there will be around thirty routes and municipalities that have wine and its culture as a differentiating element.
This map draws routes through Arribes del Duero, Arlanza, La Mancha, Jumilla, Bairrada, Ribeira Sacra, Madrid, Alijó, São João da Pesqueira, Pinhel, La Manchuela, Cerrato Palentino, Beira Interior, Távora-Varosa, Tras-os-Montes, Douro e Porto, Tejo, Lisboa, Dão, Vinhos Verdes, Bierzo, Cigales, Rueda, Toro, Valdepeñas, Ribera, Sierra de Francia, etc.
Wine routes are increasingly attracting tourists and, according to data provided in the eleventh report drawn by the Spanish Association of Wine Cities (Acevin) on tourism demand, and the interest in knowing wine destinations is at the origin of 40 percent of the trips. Discovering the wine culture, gastronomy, culture and nature of the surroundings are the motivations that lead tourists to choose wine routes as a leisure destination.
According to the report, the choice of one route or another is based on the recommendations of friends and family (40.8 percent), the interest aroused by the wines of the area (24.5 percent) and the attraction generated from digital platforms and social media.
Safe scenario
To guarantee health safety, FINE will carry out antigen tests free of charge on all participants in the event: exhibitors, buyers, employees of collaborating companies, visitors, journalists, etc.
It will also be compulsory to wear an FFP2 type mask and to comply with measures such as capacity limits, safety distance, identification of attendees, etc. FINE will be held in a 9,000 square metre pavilion with total air renewal every 30 minutes.
Training days
FINE's programme includes conferences, round tables and workshops in which experts from different fields will explain how to apply solutions to wine tourism to improve its development, from data analysis to market knowledge and creativity to generate new experiences.
Juan Luis Nicolau, specialist in tourism market research, professor at Virginia Tech University, will open the technical conference on Wednesday 9th with a talk on the importance of knowing tourist behaviour.
The application of big data to wine tourism will be addressed by Cathy Huyghe, CEO of Enolytics, and Luís Brites, CEO of Clever Hospitality Analytics. The afternoon session will focus on the technological tools used by Turespaña to detect potential tourists, augmented reality experiences, such as that carried out by the Familia Fernández Rivera winery or the model applied in California by Artesa Winery, part of the Raventós Codorníu group.
The first day will conclude with a practical workshop, led by wine tourism marketing expert David Mora, who will explain how to use tools to find the ideal customer.
On Thursday 10th, BeFine will open its programme with Eduardo Gonzáles, co-founder and creative director of the restaurant Sublimotion Ibiza, who will talk about the creative process of innovative experiences. The sum of technology, imagination and haute cuisine give shape to this original "gastronomic performance" developed in collaboration with chef Paco Roncero.
The conference will conclude with a round table with the participation of Roberta Garibaldi, President of the Italian Association of Wine and Food Tourism; Brigitte Bloch, Vice-president of the French Higher Council of Wine Tourism; Alberto de la Iglesia, Director of wine tourism at Pago de Carraovejas; and César Saldaña, President of the Wine and Brandy de Jerez Wine Route Association.